27 Nov
Every year my house explodes with life and new found stuff as the Christmas season approaches. My father's family was never really into the Christmas spirit when he was younger. I believe this is why he takes such joy in decorating the house now. It seems as though every year we buy more Christmas decorations for the house. It is coming to the point now where literally everything except the teapot is replaced with a Christmas-alter-ego version of itself. It certianly gives the house a new life and spirit, but I could see why some people are overwhelmed by the sight of it. As I believe my friend RB would put it, the chrismosity of my home is a little too high. He coined the term chrismosity to refer to the level of Christmas stuff/spirit something had.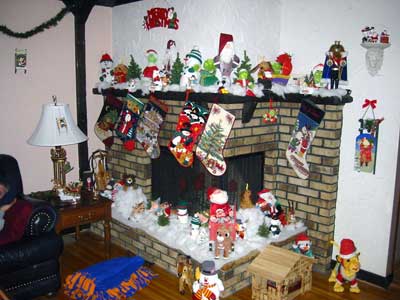 Fireplace with plush Rudolph/Frosty display

New shiny Christmas tree in the living room

Another shot of the living room
(Dad sleeping on the couch 🙂 )

Kitchen – ceiling fan and newly decorated shelf

This tree has all of the Hallmark Keepsake ornaments that my brother and I recieved over the course of many Christmas mornings.

Another shot of the kitchen
The scary thing about all this is, my mother has about half as many lion themed items as we have Christmas items in these shots. All of the lion memorabilia gets taken down for obvious reasons.