23 Feb
In the last couple years I've built computers for my girlfriend and my cousin. They both knew exactly what they wanted in a PC. With a little research I was able to choose some good components that weren't on the cutting edge, but were more than capable of doing anything they wanted to do. I still find it amazing that you can build something like that for about $400. I find it to be very entertaining time putting together a PC. If you've never done it before it looks intimidating, but just like anything else, a little experience goes a long way.
After finding out how much fun it was to build a PC… carefully selecting components that will work well together, assembling the components with case, and trouble shooting the inevitable issue that arise… I looked forward to building something nice for myself.
I finally did so a couple weeks ago. I first picked out the components back in September, but decided to wait a few months so that the prices would come down a bit. On a friend's suggestion I started looking at the building guides at sharkyextreme.com. I enjoy their site because they frequently list the prices of all of the major PC components. Every month they also put out a PC building guide. These alternate between budget and high-end guides. The link above is to the November high-end guide that I mostly followed to build my machine. All told I saved myself about $500 and ended up with even more computer than I originally thought I'd be getting by waiting until early February to purchase my components.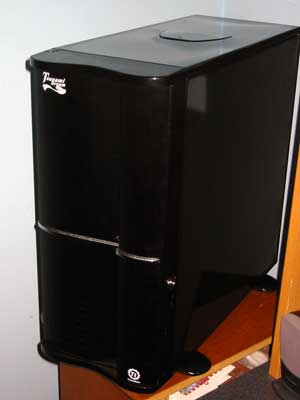 Thermaltake Tsunami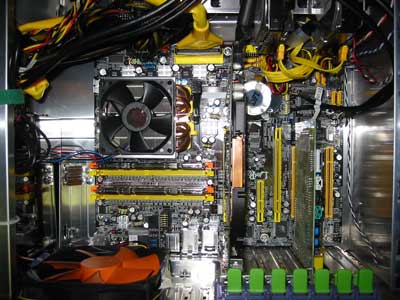 Tidy case interior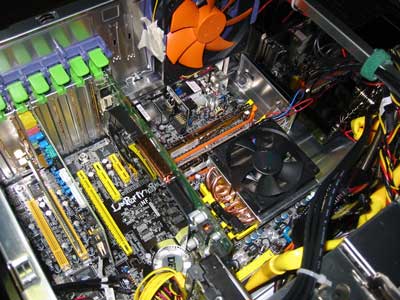 ...more of the tidy case interior

Processor, RAM detail
Final specs:

Motherboard:

DFI

LanParty[UT] nF4

SLI

-DR Exp

NF4 939



Processor:

AMD

Athlon 64

X2 4400

+



RAM

: 2

GB OCZ

Platinum dual channel

DDR400



Hard drive 1: Seagate Baracuda 250 GB


Hard drive 2: Western Digital 10,000 rpm Raptor 36 GB


Power Supply:

OCZ

PowerStream 520W


Video Card: eVGA Geforce 7800GT 256MB


Case: Thermaltake Tsunami


Sound Card: Turtle Beach Santa Cruz (salvaged from previous PC)


Wireless Card: Linksys 802.11G

PCI

(salvaged from previous PC)


I'm extremely please with the PC so far. It has absolutely chewed through any and all applications I can throw at it, including games. I can truly multi-task without hesitation now. For example, I was downloading a large file at 100kBs, running Photoshop, had several browsers open, and was playing Fable: The Lost Chapters with maxed out quality settings without a hitch at all. With the capability to add on a second video card in SLI mode, and the multi-tasking ability that 2GB of RAM and a dual core processor affords, this PC should keep me happliy gaming for a few years.